Pasha Biceps has already hinted at the end of his career, and the Virtus.pro management is ready to bet on young people. But is now the time to do it?
In December 2016 Virtus.pro re-signed contracts with their CS:GO team for the next four years, until 2020. Three desperate roster changes and less than two years later, the entirety of the squad is benched and the project gets put on hold.
The torment was over. Last year, the Polish lineup of Virtus.pro, which once smashed and terrified European giants turned into a subject of ridicule. Few took the Poles seriously. Rare glimpses of talent followed by indistinct results. Comments and interviews have become rare. It seemed that there was no longer any strength to make excuses. It is better to be silent.
The same happened in 2017, when inside the team started talking about the need for change. It is difficult to admit to failure. Nobody thought that could be worse. Second place in the major in Atlanta, victory in DreamHack in Las Vegas, 3-4th place in the major in Krakow, runner-ups at EPICENTER in St. Petersburg, and then at Starladder.
Those seemed like bad results at a time. Today, it looks like an unachievable dream. However, even those results were perceived with a slight skepticism.
And when it seemed that there would be no worse, a catastrophe ensued. The guys fell down. First, Victor "TaZ" Wojtas left. The captain, a leader with vast experience behind him, who "knows how to win," just turned out to be a nobody to be replaced.
Following him on the exit was Janusz "Snax" Pogorzelski. And after another three months — Paweł "byali" Bieliński. And all this was accompanied by the discontent of the fans, mini-dramas and the search for new players.
Young esports players simply could not handle the burden of responsibility. None of them were able to replace the departed. Even if the results in CS looked good, the situation in the team only aggravated. Bundles that have been playing for years are a thing of the past. The guys did not have enough experience in difficult situations. Other teams played and acted better, sometimes on some otherworldly level. Thanks, Astralis.
In the last year, Virtus.pro looked like a white tired bear, on which the children jump, pull the poor guy over his ears and ask him to ride on his back, and he cannot even stand up. The team was in tilt and no one understood how to get players out of this state. The American psychologist tried, but even he was powerless. In the team forever, someone was unhappy.
One can only guess what some members of the VP do not like about each other now. But the "family" that once was is no longer in sight. All good things sunk. Snax does not want to play with byali, although he could.
TaZ, now playing for Kinguin, gives one angry interview after another. After all, he said: "I don't think about Virtus.pro. I don't want to talk about Virtus.pro" — and did not want to compare them with Team Kinguin. This is TaZ after qualifying for the 9th season of the ESL Pro League said that a victory over a team that did not believe in him means a lot.
And this is not just a sports anger, there is something more.
All this time, Jaroslaw "pashaBiceps" Jarząbkowski was trying hard to seem like a funny guy and talk about participation in 18th Major (which is true), and Filip "NEO" Kubski was simply silent. As if nothing had happened. He always does that. All because he does not want to communicate with the media. Nobody commented on anything.
But it so happened that everyone knows who wanted to kick someone out of the team. Thanks to byali and his talkativeness on stream.
Following the announcement the CS:GO community on Reddit was buried in tears of nostalgia. Users published the best memes about VP, lists of trophies for NEO, recalled how the guys carried everyone to tournaments and set an example for the younger generation of players. Those who are now trampling in the dirt of their rivals and holding the first line of the world ranking.
A lot of attention was dedicated to pashaBiceps as well. Professional players published photos with Yaroslav, thanked for the things that he made their lives better by his example, they remembered his catchphrase: "You are not my friend. You are my brother, my friend." And somewhere on Reddit, someone sadly recalled on which note one of the most muscular and brilliant players in Poland ends his career.
There will be no moralizing about the attitude of people here and there. The truth lies exactly in the middle. The first version of the composition of Virtus.pro has achieved incredible success. Many players have built such a career that they can only be envied (the same NEO in CS from 13, with his shoulders dozens of victories in top championships). And no one can take away from them the achievements that they have achieved together in CS 1.6 and CS: GO.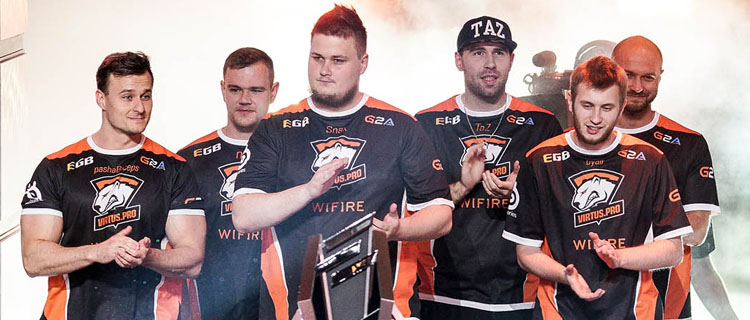 The main question is did the management learn their lesson? Roman Dvoryankin inherited the legacy of Anton Cherepennikov. After all, the co-founder of ESforce holding gathered Dota 2 and CS: GO teams. He trusted the players and gave them a chance. They paid him back with results.
During the time that Dvoryankin was at the helm of the club, he did not break anything (but is that really an achievement?). He helped find partner organizations and conclude a number of contracts with popular brands (including personal ones, and this is a victory), tried to resist in new disciplines. Now it's time to demonstrate what Roman is like when working with players in CS: GO, the game that brought the club reputation. Experiments with substitutions showed nothing.
It's time to build everything from scratch and look for new approaches. Astralis has proven this to be possible. They understand like no one else: the world is constantly changing, demands are growing, you need to move forward. And if we begin to act following the old ideas, nothing will come from it.
Six teams, four days, one house, and $150,000 dollars in prize money — Beyond The Summit returns to Counter-Strike with another spectacular event in Los Angeles, this time featuring Team Liquid, ENCE, NRG esports, and others.
Team captain of the ever-resourceful Vega Squadron, Dmitry "jR" Chervak sat down to talk about how the new composition of the team was formed, and also expressed dissatisfaction with the unjustifiably high buy-outs for the players in the CIS.
DreamHack's return to a small French town of Tours starts today, with a $100,000 dollar Counter-Strike event featuring 8 up-and-coming teams, including mousesports, AVANGAR, Valiance, Ghost Gaming, G2 Esports and others.